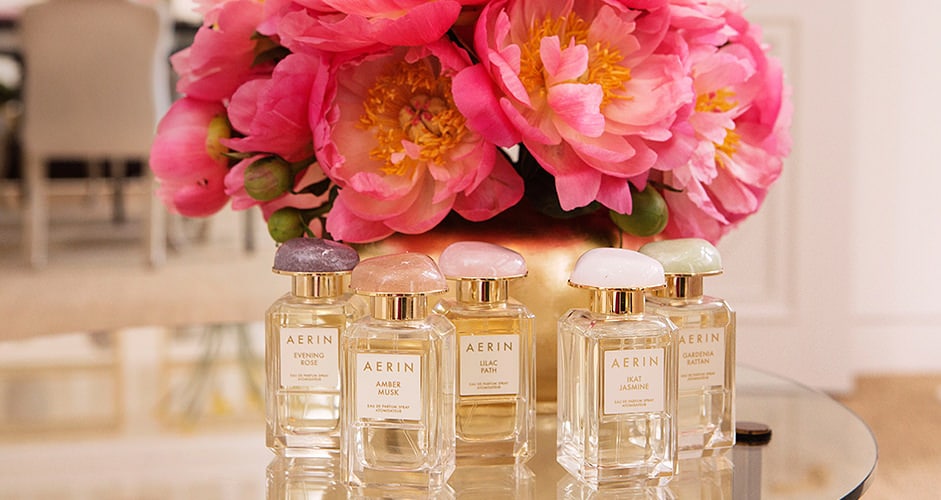 Fragrance is a passion of mine, it evokes precious memories of people and places—it's part of my heritage. I worked closely with perfumers to create the AERIN Fragrance Collection, which was inspired by moments in my life. While it's a very instinctive process for me, the job of perfecting the composition of each scent is fascinating.
Gardenia Rattan combines the feel of warm summer sun and a light breeze, with the smell of ocean air and fresh cut flowers. 
In contrast, Amber Musk is all about cozy moments. It's a scent that you want to wrap yourself in, whether you're outside breathing the fresh, cold air of snow-covered mountains or spending an evening indoors by a crackling fire.
The arrival of spring, with budding flowers and promise of warmer days enhances our appreciation of the changing seasons. Lilac Path, inspired by a lilac bush that blooms every spring at my country home, captures this time of year like no other fragrance. 
From the country to a more urban sensibility—Ikat Jasmine is the essence of casual city chic. Representing the modern, feminine woman, it's about style and fashion. Like denim, the jasmine note makes it wearable year round. 
Evening Rose is about a woman who is strong and assertive, yet feminine. The combination of rose and cognac is surprising yet alluring—combined they provide a sense of being polished and pulled together.