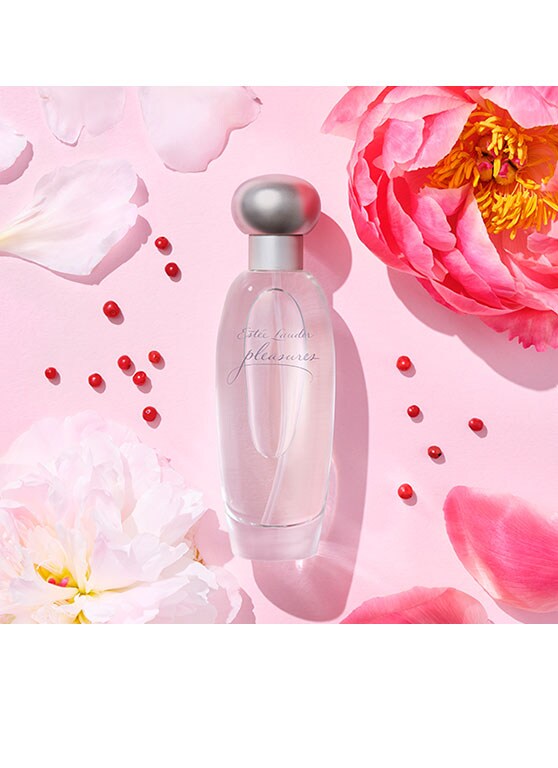 Estée Lauder Pleasures
Eau de Parfum Spray
FEELING
Soft, Joyful, Luminous
Product Details
Product Details
Sheer optimism in a bottle.

As uplifting as fresh flowers after a Spring rain. This clean, sparkling floral is a delicately soft blend of notes of Lilies, White Peonies and Jasmine, all aglow with the essence of Baie Rose.

Delight your senses in every season, every moment with the feel-good fragrance that celebrates life's simple pleasures.

Top Notes:
White Lily, Violet Leaves, Green Accents

Middle Notes:
Black Lilac, White Peony, Karo-Karounde Blossoms, Baie Rose, Pink Rose, Jasmine

Base Notes:
Sandalwood, Patchouli
The Inspiration
Created in 1995, Estée Lauder Pleasures set the trend for uplifting, airy fragrances and introduced the Sheer Floral fragrance type.
Evelyn Lauder created it to have a sheer, elusive, luminous quality. It captures the clarity of flowers just after a spring rain. This wonderful fragrance has been one of best selling fragrances for many years.
"Whatever the fragrance was to be, I wanted it to have an elusive, textural quality," said Evelyn Lauder. "And we have achieved it with Estée Lauder Pleasures. For the first time, there is a fragrance that unfolds like a flower in the warmth of the sun, surrendering its scent little by little."
FEELING
Soft, Joyful, Luminous
Fragrance Type
Sheer Floral