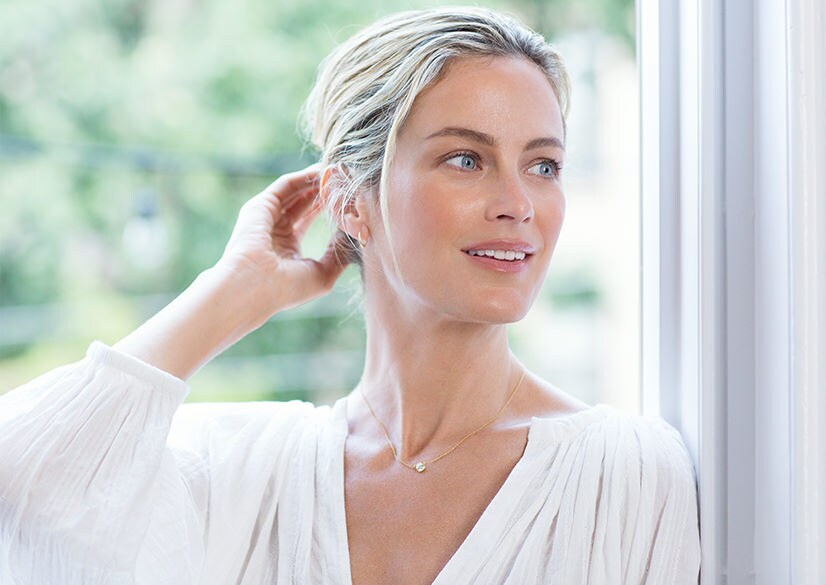 Models, gorgeous as they are, typically are not known for their career longevity, save for a select few. But Carolyn Murphy, our most enduring—and endearing—Estée Lauder spokesmodel, belongs to that iconic echelon. She joined the brand in 2001 and has gone on to represent dozens of major product launches for the past 15 years. As an anniversary gift to the inimitable Ms. Murphy, Estée Stories partnered with photographer Garance Doré to recapture some of her most timeless looks. Then we got down to brass tacks to find out Murphy's favorite memories from our shoots, her attitude toward aging and what she'd tell young women who want to model. She's frank, funny and was even generous enough to share her beauty secrets.  
You've been an Estée Lauder model for 15 years. What are some of your favorite memories with the brand?
From the moment my agent called to tell me that the brand was interested in me being their spokesperson, it's been almost surreal. I grew up with Estée Lauder, playing with my Nana's perfume and holding tubes of lipstick, getting into my mother's Double Wear foundation as a teenager, staring at the ads of Paulina [Porizkova]. I think my first test shoot was special because I had my daughter there, and then the second shoot because Aerin [Lauder] had her children there as well; we bonded as mothers and became friends. The images that Steven Meisel shot were so refreshing and harkened back to lifestyle ads of Karen Graham, which were so iconic. One of my other favorite shoots was when we all traveled to France to shoot with Mario Testino because, again, Aerin and I brought our children, and so did Elizabeth Hurley. We have created a very familial environment and sustained that.
You've probably had a chance to try nearly every Estée Lauder product. What are your favorites?
Estée Lauder herself created products that were for women by a woman, and the brand today maintains that sensibility that your skincare is the foundation of beauty. I am religious about my regimen: It consists of Re-Nutriv Hydrating Creme Cleanser in winter and Perfectly Clean Multi-Action Cleansing Gelée/Refiner in summer; of late I've added Micro Essence, and I do not go a day without Advanced Night Repair, my go-to skin secret. My moisturizers alternate between Revitalizing Supreme or DayWear for SPF, DayWear BB Creme, Re-Nutriv Ultimate Diamond, and Nutritious Oil. I use different masks during the week depending on my needs, but you cannot go wrong with the Advanced Night Repair PowerFoil Mask. Lately I'm addicted to the new Advanced Night Repair Intensive Recovery Ampoules and have received more compliments on my skin than ever! I'm diligent about adhering to a morning and night routine, although I only rinse with cold water in the morning rather than washing. 
How has modeling changed over the 15 years you've been with the brand?
For me personally, modeling has changed only in that I feel more confident now at 42 than I did in my 20s. I'm more relatable, and it's important to me—not that I convey this in images, but definitely when I'm speaking with other women. We can share more in experience, whether it's motherhood, career, etc. I do find this younger generation moving so rapidly that I wonder if they truly enjoy what they do, rather than feeling disposable or replaceable. I'm grateful I was established pre-social media, so that's a positive. But it can also be a negative in trying to keep up and stay relevant.
You've had such longevity in the modeling industry, where a lot of women have fallen off the radar. Why do you think that is and what do you enjoy most about it?
I enjoy my career and have always seen it as a blessing. I've been able to self-educate through travel and collaboration with designers and photographers. I love the creative aspect of my job while on set, the points of reference, like books and films. To live in New York, attend social events and have contact with people from all backgrounds, people who are changing the world, and to be involved—that is a gift. I choose to take advantage of this and enjoy it—be grateful. It's not playtime to me, it's a job, and one I take seriously but still have fun. I also avoided the party scene and I think that makes a difference. I took classes and continued my education, which has fulfilled me outside the industry, [in addition to] motherhood.
What's your approach to aging?
Stay graceful! I don't believe in fighting it or covering it up. Thankfully I have the best products to help me along the way, but I also take care through good habits. I sleep eight hours a night, I drink a lot of water, I eat a plant-based diet and try to exercise at least three days a week. I also believe in laughing a lot, indulging once in a while and staying true to my passions. Chocolate is a must, and a good glass of red wine every now and then over a pasta dinner with friends. A surf in the ocean makes my heart sing! I wish someone had told me more about sunscreen when I was younger, but now I don't leave the house without at least BB creme or DayWear [moisturizer] layered with an extra [suncreen]. I just feel strongly that every woman is different in her approach to aging, and whatever makes you happy is what will shine through!
It can be very rewarding to be a model, but you have to have a strong core of your own identity.
What older woman or women do you look up to and why?
I look up to so many women! I adore Jane Fonda—she just looks fantastic but also keeps going with her career and activism. Meryl Streep is hands down a great example of someone who's aged gracefully, stayed true to her art form and out of the limelight. I look up to Jane Goodall a lot because she continues to help bring awareness to human behavior through her work with chimpanzees and animals. I look up to Arianna Huffington for her passions toward health and success. Gosh, I look up to so many women, but really the root of it all is a woman who stays true to herself and is out there making a difference.
You're an avid surfer. When did you start and what got you into it?
I grew up near the water [in Florida] and was a competitive swimmer throughout school and almost went to junior Olympics, so surfing was an easy sport to take up. It's not for everyone; the ocean is daunting and powerful. What it has provided me with is more of a meditative experience and adventure as opposed to the actual sport. The lifestyle of surfing is quite freeing and the community so different from the fast-paced life of the city. It's my reprieve. If I meet women who want to start surfing, I usually say please wear a ton of sunscreen, cover your head when you fall, and stay away from surfer boys!
What advice do you have to young women who want to become models?
Stay in school, number one. Complete your education. My parents insisted on this and I'm so grateful because it protected my youth. I also say to be sure to have other interests, like possibly continue your education, consider philanthropy or create your own business. Use yourself in other ways so as to not rely on the industry. It can be very competitive and full of rejection. You do not want to rely on it for your sense of self-worth. Find a good agent, go at your own pace, and stay away from the nightlife and drugs. Use modeling to further your experience in life—the travel—and save your money. It can be very rewarding to be a model, but you have to have a strong core of your own identity.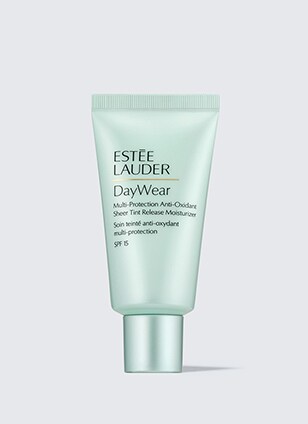 Helps prevent signs of aging. One sheer shade.