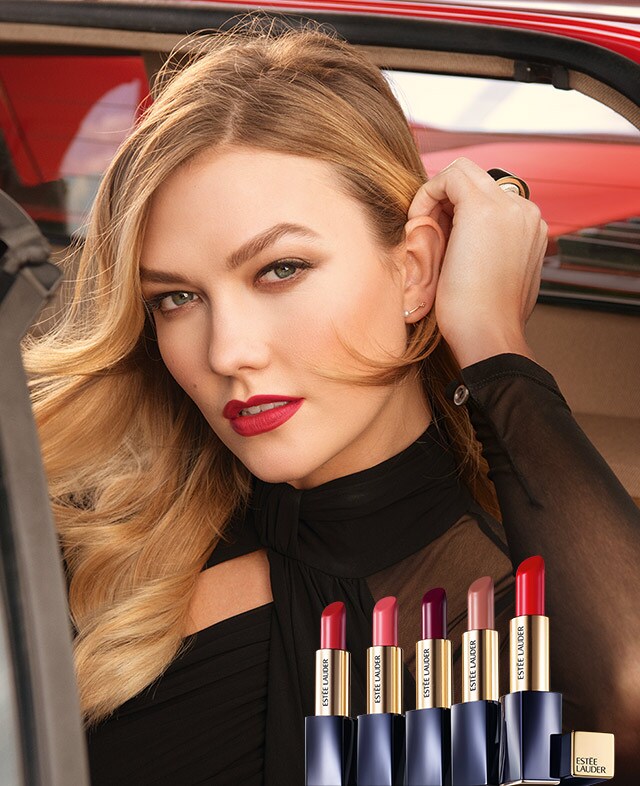 There is something about Karlie Kloss that hearkens to the era of the '90s supermodel. So much more than a pretty face, these women were household names and changed the game of what it meant to be a model. They walked the highest-fashion runways and appeared in the most aspirational campaigns, yet were somehow also approachable—it felt like they could be your best friend, if only you happened to be in Milan for the same show.
Karlie (we might as well be on a first-name basis, since she's the next-gen Cindy, Naomi, Christie) is cut from the same cloth. Starting her modeling career in high school, Karlie soon left her hometown of St. Louis, Missouri for New York City and a life in front of the camera. But it's not all the curated, calculated images you're used to seeing in magazines—Karlie is an open book and makes it a priority to let fans in on her life, as evidenced by her three-year-old YouTube channel Klossy, where she takes followers everywhere from the everyday (a run and her post-workout routine) to the extravagant (the Oscars red carpet). She also devotes time to giving back: Out of her own curiosity, Karlie enrolled in coding classes and then founded an organization called Kode With Klossy to give young women the same opportunity to learn to code and empower girls to be leaders in tech.
We could go on at length about our newest Global Ambassador and what makes her so incredible, but we'll let you hear it directly from Karlie herself. Read on for our chat from the set of her first shoot with Estée Lauder, and you'll no doubt see why she puts the "super" in supermodel.
When did you know that you wanted to be a model?
I wouldn't say that I really set out knowing that this would be my career. I was first discovered in a mall in St. Louis, Missouri and at that point I thought I was going to follow in my father's footsteps to one day become "Dr. Kloss." I was sure that was my life path, so even when I started my modeling career and started traveling the world and working, I really, for the first few years, thought of it more as an after-school hobby. It wasn't until I graduated high school and moved to New York that I was like, "Alright, I'm doing this. I'm going to give my all."
What does it mean to you to be joining Estée Lauder?
It's a dream come true. It really is. My entire career, having a beauty contract has been at the top of my bucket list. From the very start, my list of career dreams always included "Cover of American Vogue" and "Estée Lauder beauty contract." When I was on an airplane commuting between my life as a high school student in St. Louis and my parallel life as a fashion model in NYC, I would journal about my dreams. I have to find that journal that says, "Bucket List: Estée Lauder beauty contract." It's surreal, and I'm really grateful and excited. I'm so honored to be a part of a brand with such a rich legacy. Estée Lauder is the creme de la creme! The advertising images are iconic—but being a part of Estee Lauder to me means so much more. I am so inspired by what this company stands for. The history of the brand, the entrepreneurship of Estée herself, the unparalleled scientific research and commitment to creating the best in class products for women globally. I couldn't be more proud to be joining the Estée Lauder family.
What is your favorite thing about your job?
I'm a really curious person, and I love learning about business and different industries and really getting to understand how things are made and how people see the world. I get to work with such creative people and be around so many people with unique life experiences. My favorite part is the access I have to really brilliant minds, whether it's in fashion, or with photographers, or makeup artists, or on the business side. I love learning about how things are built. I recently met a chemical engineer who had worked with Estée Lauder on product development, and was so fascinated to learn about the science and art behind developing product.
Every woman can do whatever she wants! And I don't think that should stop her from wanting to feel beautiful, or be beautiful, or do whatever it is that she's passionate about.
What is the hardest part of your job?
Because we live in such a global world, part of the glamour of it is all this travel, but it also can be taxing to be living out of a suitcase all the time, so it's kind of a double-edged sword.
In the midst of all of that, you founded Kode With Klossy, which teaches girls how to code. What inspired you to learn in the first place?
I was always interested in math and science growing up and even though my career took me down a different path, that interest and curiosity stayed with me. As my career in fashion progressed, I started to see how technology was transforming my own industry. I took my first coding class because I wanted to understand how the technology that was changing not only my industry, but every industry, worked. After taking that class, I had this "a-ha" moment. There's no limit to what you can build with code and with access to the learning and incredible teachers, everyone can learn. I started Kode With Klossy in order to provide other young women with the same opportunity to learn to code and empower them with the skills needed to become the next generation of leaders in tech.
Let's talk about fashion and beauty in the tech space. It seems like beauty can sometimes be seen as a bit more frivolous, while tech is very serious. How do you merge the two worlds?
The two worlds have already merged — I actually think beauty and tech sit at this really unique intersection with so much power and opportunity to innovate and be creative. Throughout my own career, I've watched the increased emergence of fashion and tech, from the rise of ecommerce and wearable tech to 3D photoshoots. These two worlds will only become more intertwined, which will lead to many more changes and innovations in the industry in the coming years.
I also want to say that beauty is not always about being frivolous or vain. Beauty and fashion allow for self-expression — they have the power to make you feel like your best self by inspiring confidence and individuality, and that should not be undervalued.
Estée had this saying, "Every woman can be beautiful." And it's almost like you're proving the tech equivalent of that with the idea that every woman can code.
Every woman can do whatever she wants! And feel beautiful in her own skin. You don't have to be defined by just one thing, and that's what's so exciting about this world that we're living in today. I think the next generation understands that they can be, do, and create anything they dream of.