What is it about French women? Known for an innate sense of effortless chic—that certain je ne sais quoi—they can steal the spotlight in any room without ever trying too hard, and wear a simple sweater with aplomb. They have a similar way with lipstick, too. "I wanted to talk about how girls like 'us' wear lipsticks," explains Garance Doré, the Corsica-born photographer, illustrator, and street-style blogger who shot Lille-born Estée Lauder spokesmodel Constance Jablonski for the Estée Edit.
We wear lipstick on a simple day, just with a sweater, as a fashion accessory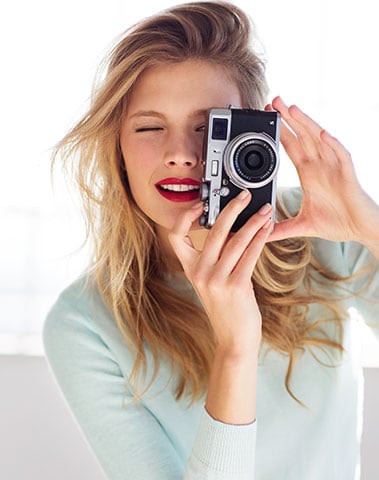 It's not just that Garance and Constance are both French, but that they are also very cool. "Today we wear lipstick not necessarily to just go out, but on a simple day, just with a sweater, as a fashion accessory," Garance continues, asking makeup artist Blair Patterson to select the brightest shades of Estée Lauder's new Pure Color Envy Sculpting Lipstick, and little else, for that studied nonchalance.
Working with the shades Impassioned, a bold coral, Dominant, a gorgeous fuchsia, and Envious, a true red, Patterson gave Constance "super sheer skin" with Estée Lauder's Double Wear All Day Glow BB, contouring her cheekbones and the high planes of her face with a foundation that was slightly deeper than her natural, creamy tone. "The biggest killer with a statement lip is to also use a ton of blush," he advises. "It's the fastest way to age yourself."
Mascara, however, is a must. To make Constance's crystalline aqua eyes really pop, Patterson flooded her lashes with an emerald mascara first to catch the blue in her irises before coating the inner corners with the brown side of Estée Lauder's Sumptuous Two-Tone Mascara, and using the black side along the outer corners to simulate a winged-effect. As a finishing touch, Patterson employed "the trick of all tricks," dipping a blush brush into a drop of Advanced Night Repair, and swirling it across Constance's complexion. "It makes skin look like skin," he insists—even after you apply makeup.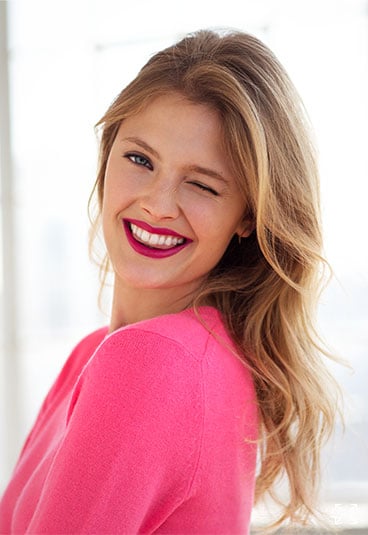 Constance was partial to Impassioned, which Patterson was able to apply without a lip liner. "I love to wear bright coral, and bright pink lipsticks, especially with a tan," she admits. A minimalist when it comes to makeup—"I like to pair a bright lip with just a touch of mascara."
Constance also has her own theories on the timeless allure of French women. "It has something to do with our hair. We just don't brush it," she reveals. "The hair look is so easygoing that you can wear anything—diamonds, lipstick—and it looks cool because it's casual. I don't own a brush. I just wake up and leave it as it is." Now you know.