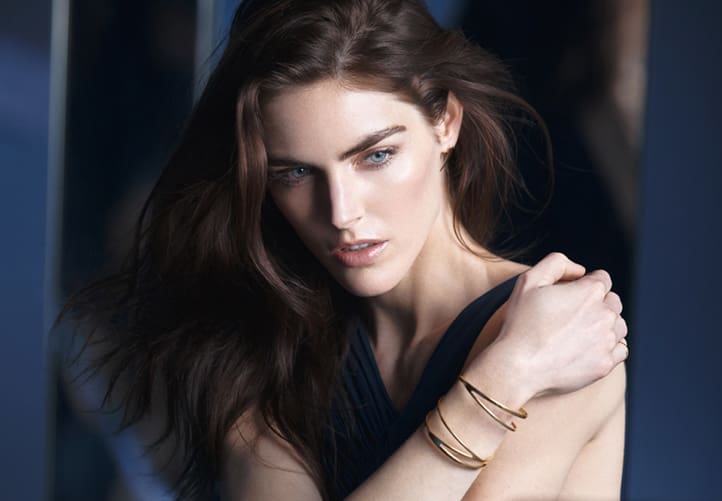 Our spokesmodels are often more than just ambassadors for the brand—they become like family. (See: Carolyn Murphy, who's been with Estée Lauder for almost 16 years.) We've known Hilary Rhoda since she was 20; now, at almost 30, she's making her return to the brand as the gorgeous face of our newest addition to the Advanced Night Repair family, the Eye Concentrate Matrix. It's a revolutionary spin on eye care that repairs, fortifies and hydrates with a double dose of
Hyaluronic Acid.
Estée Stories caught up with Rhoda to chat about her beauty routine and best travel tips, and how she's grown up since she first became a spokesmodel for Estée Lauder.
You were originally with Estée Lauder for 7 years, starting from the time you were 20. Is there a sense of feeling like you've grown up with
the brand?
Yes, definitely. I feel like a part of the family. I've been with the brand almost my entire career, so it's a huge part of my life. It feels really good to be back and seeing everyone and working with everyone again.
I feel a lot more grown up, in a way, because I started when I was so young. I'm turning 30 next year, and I just feel like I've changed a lot and come a long way. It's nice to come back in a different phase of my life.
Modeling has changed so much over the last few years. Can you talk about what that evolution has been like for you? What are some of the differences you notice from having been with Estée Lauder before and back again now?
I think [the change] is great. Social media has definitely made things more fun. People still take their jobs seriously, but it's made fashion more fun again, in a way that that's more inclusive and allows people to show their personalities. It gives us a much broader audience. I love being able to share what's going on in my
life with everybody.
What is your definition of success?
Being happy in my career and with my husband and having kids. I think it's different for every person, and it's also something that's always changing, depending on the stage of your life. I think success has to be a balance of doing well in work and at home, both in your relationships and how you personally feel.
What does it mean to you to work with Estée Lauder?
It just feels like home. I know so much about the Lauder family, and I love the brand, and Estée herself—she was such a pioneer. I love how she's still such an inspiration for women in business, doing your own thing, starting your own company. That's another thing that I think has changed a lot in the last few years since I started working with the brand—starting your own business is so much more prevalent now, but Estée was the original.
Working with Estée Lauder has taught me the importance of taking care of my skin. It's the most important thing you can do.
Has your beauty routine evolved since you were first with the brand?
Before, you know when you're younger, I did start doing my regimen with Advanced Night Repair serum and DayWear Multi-Protection Anti-Oxidant 24H-Moisture Creme. Now I've added a couple more steps. I love oils, and I still use Advanced Night Repair serum. Maybe I wasn't so diligent before, but now I need to do it, morning and night. Moisturize, moisturize, moisturize—that's the most important thing.
Working with Estée Lauder has taught me the importance of taking care of your skin. It has become a top priority for me. It's the most important thing you can do, and it makes you look healthier, more radiant and makes makeup look better. That's the most important thing I've learned and carried with me.
What do you love most about the new Advanced Night Repair Eye Concentrate Matrix?
I love how creamy it is. You can really feel the hydration and that is exactly what
you need in an eye product!
Is taking care of your eyes a big part of your beauty routine?
Yes, it is! I use the Eye Concentrate Matrix morning and night. I also think an eyelash curler is a foolproof way to look more awake. I don't wear much makeup in my everyday routine, but I always curl my lashes before going out the door.
What is one of the best beauty tips you've picked up on set?
It's all about the skin. I love fresh, dewy skin. After my makeup is on, I put a little bit of Advanced Night Repair serum on my cheekbones to give me that dewy look.
What are your top 3 favorite Estée Lauder products?
Definitely Advanced Night Repair, because I use it as a serum and with my makeup, too. Let's see, what else? Also the Advanced Night Repair PowerFoil sheet masks, because I don't know what I would do without those—they save me when I travel. And Sumptuous Bold Volume™ Lifting Mascara.
Your job requires a ton of travel. How do you take care of your skin between flights, jet lag, and long shoot days?
I try to sleep as much as I can on the plane. And I drink a lot of water and use those sheet masks while I'm on the plane, which, I'm sure I look crazy, but I often have to come right off of a red eye and into a job. Sometimes when I'm in the car on the way from the airport to the studio, I'll have the mask on. And then people can't believe I just came off the red eye! It really helps—it's all about hydrating the skin, and then you can hide the tired for the time being. I'll use the sheet mask and then apply DayWear 24H-Moisture Creme afterward.
And how do you stay centered when you're always on the go?
For me it's exercise—that's what helps me clear my head. Even if I'm tired, sometimes that's the best thing when you're exhausted or jet lagged and you get off the plane. It's just good to get the blood flowing and sweat a little bit.