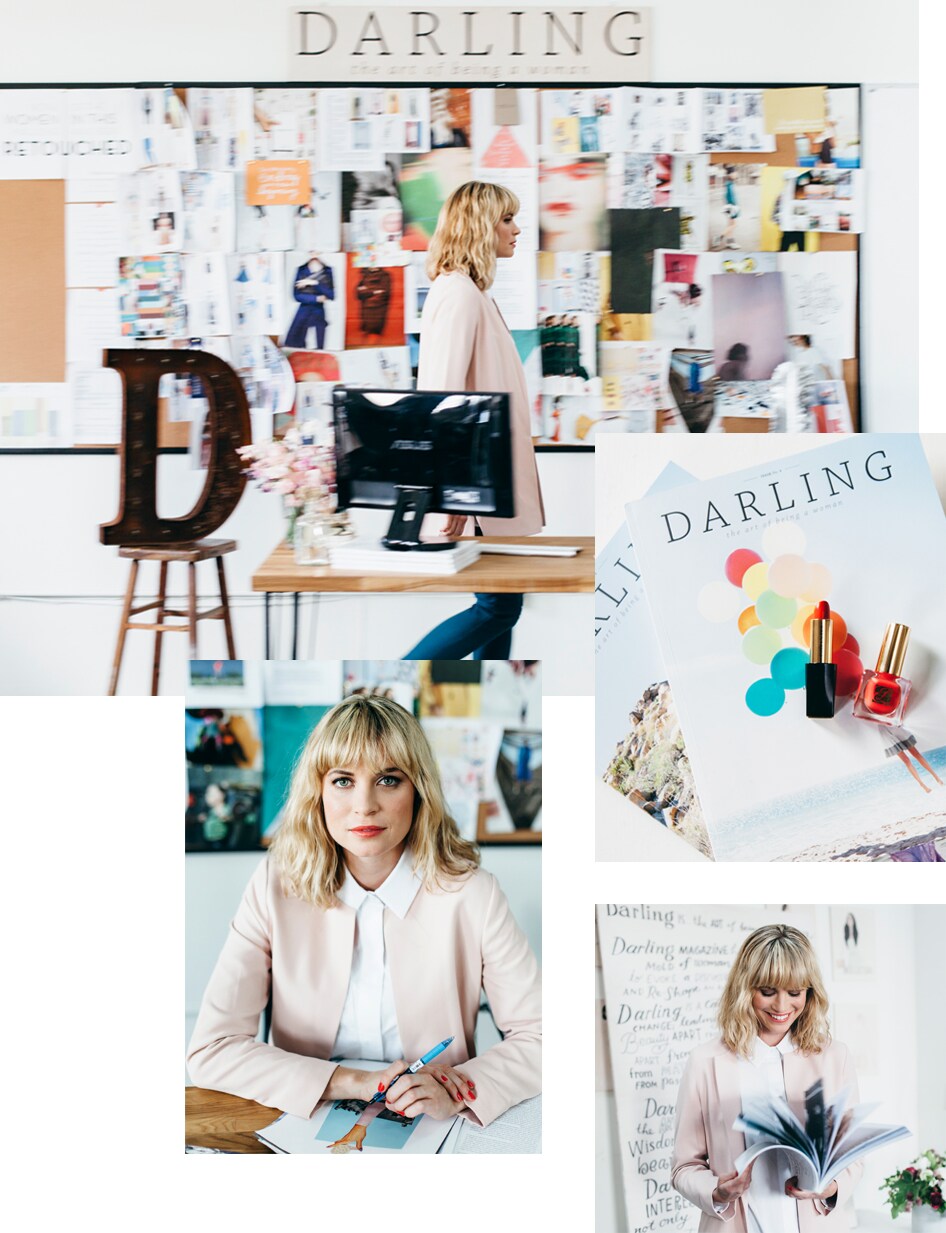 Being a woman going through adolescence—not to mention adulthood—can be tricky business. "It's hard to be a girl! You're constantly asking yourself 'What am I doing with my life? Why am I dating this person?'" confirms Sarah Dubbeldam. Finding herself pondering similar questions, and lacking the mentorship necessary to answer them, the Bend, Oregon native took action by launching Darling Magazine. A veritable guidebook for navigating these real-life issues. The quarterly publication provides like-minded women with a destination to learn, grow, and break out of pre-conceived beauty molds. "We want readers to see as many different faces and shapes as possible," says Dubbeldam of each issue's gorgeous editorial spreads, which she artfully directs following a number of years in front of the camera; before getting into the publishing game, the statuesque blonde spent most of her twenties doing commercial modeling, which left her with a lot of experience on-set—and an irrepressible urge to redefine beauty standards. "We're just trying to get people used to seeing photos of women who look like them," she elaborates.
Dubbeldam's commitment to transparency is a relatively novel concept that is definitely gaining steam. Since getting off the ground with the help of a Kickstarter campaign in 2012, her journal is now carried nationwide by Anthropologie, Whole Foods and other independent boutiques. That's not to say that the 32-year-old has completely sworn off lipstick, mascara, and blush in her search for a new kind of beauty truth. "Makeup is fun, and it's art, and people wear it in everyday life." Here, The Estée Edit sits down with Dubbeldam to talk about Darling's beginnings, her personal quest for a fresh-faced complexion, and the importance of empowering women to be themselves.
We want readers to see as many different faces and shapes as possible.
EL: How did Darling go from just an idea, to a reality?
SD: My best friend, [Darling co-founder] Kelly Lane and I started talking about women's magazines one day and how we didn't really connect to any of them. So we started thinking about what our ideal magazine would look like, and then every week we would go out for coffee and have these brainstorming sessions.
EL: How long did it take for Darling to get off the ground?
SD: It was a solid six years from that first conversation to when we started! We were telling people about our idea, and all of these girls wanted to be a part of it. So every Wednesday, we'd have 10-12 girls join the brainstorm. And that's where the magazine's personas came from—the main section titles that mimic categories in our lives.
EL: We love those. It's so unique to have a lifestyle section called "Dreamer," "Hostess," or "Confidant." The name of the magazine is pretty original, too. Where did it come from?
SD: We just thought it was such a beautiful word. A little girl is so darling, but in a Jane Austen book, a man can also be so darling. It's an affectionate term that can cross so many genres. Part of the mission of our magazine is that women feel loved and uplifted, and seen. Darling is sweet and that's really how we want people to be towards each other.
I really like makeup that is fresh-faced.
EL: How does the magazine's philosophy influence the "Beautician" section?
SD: We look at current runway trends and make fun mood-boards, and once in a while we like to get super crazy and do fun aspirational makeup. But we mostly like to do things that are attainable. I really like makeup that is fresh-faced versus heavy-handed—for the magazine, and for myself. I'm usually just a sunscreen, moisturizer, tinted moisturizer, little bit of blush, cherry red lipstick, kind of girl. I stick to that format, or I'll occasionally do a pink gloss.
EL: What's next for Darling?
SD: The next issue comes out this month and one story that I'm really excited about is from a New York photographer who we had shoot 31 women, ages 13 – 93, no retouching. Then we interviewed them about real, lasting, ageless beauty. Our main next goal is starting a Darling marketplace, where we'll have our own in-house products as well as collaborations. And then we're also working on doing more events and taking them nationwide, like our Darling dinners where people talk about the same issues that we discuss in the magazine.