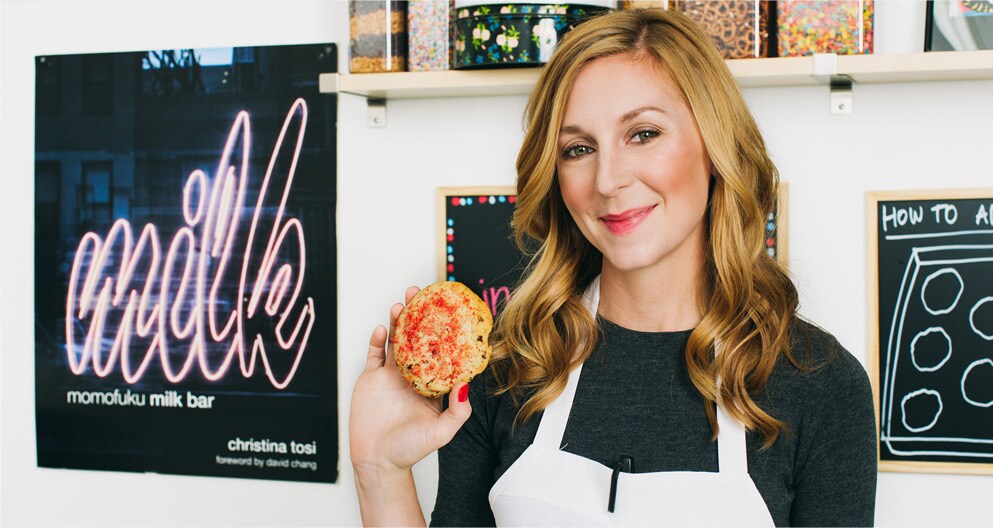 Estée Lauder's business savvy and social graces need little introduction, and her knack for creating extraordinary and memorable scents is well-known. Estée's closest friends regularly asked her to divulge the secret of her own signature scent, a bespoke blend of oils that she would coyly tell them was from her "private collection." She ultimately relented, of course, marketing the green floral with a strong, Bulgarian rose heart under the same name – Private Collection – in 1973, and the sweet-petaled essence has been woven throughout the brand's perfume arsenal ever since. This month, Estee's prized rose extract gets an update as it goes from bottle to baked-good, courtesy of Momofuku Milk Bar's Christina Tosi. This rose does smell sweet. (And it tastes even better.) Follow Tosi's recipe below to make your own batch of these crowd-pleasing confections.
The Estée Cookie
(Makes 15-18 cookies)
16 tbsp. (or 2 sticks) butter, at room temperature
½ cup sugar
2/3 cup tightly packed light brown sugar
¼ cup glucose
1 egg
2 drops rose extract

Dry Mix #1
1 ½ cup all-purpose flour
½ tsp. baking powder
¼ tsp. baking soda
1 ½ tsp. kosher salt

Dry Mix #2
3 tbsp. freeze dried strawberries
½ cup milk crumbs (see full recipe below)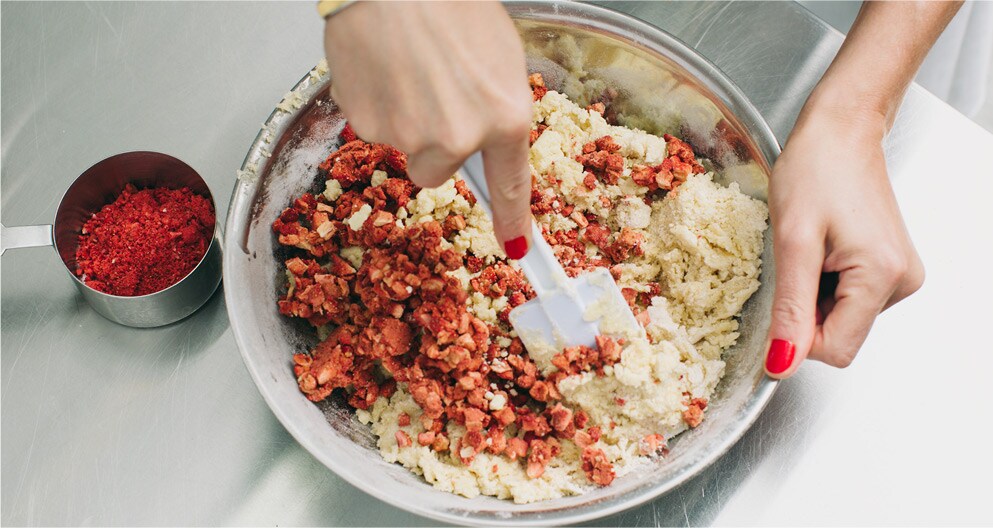 Directions
1. Cream butter, sugar, light brown sugar and glucose until pale and fluffy.
2. Add eggs, paddle to combine.
3. Scrape bowl thoroughly, add dry mix #1 until just combined on slow speed.
4. Scrape bowl thoroughly, add dry mix #2 and mix on slow speed, careful not to overmix.
5. Using a 2 3⁄4-ounce ice cream scoop (or a 1/3-cup measure), portion out the dough onto a parchment lined sheet pan. Pat the tops of the cookie dough domes flat, wrap the sheet pan tightly in plastic wrap, and refrigerate for at least 1 hour.
6. Heat the oven to 350°F.
7. Arrange the chilled dough a minimum of 4 inches apart on parchment- or silpat-lined sheets. Bake for 5 minutes, rotate tray, and bake for another 3-5 minutes or until faintly browned on the edges.
8. Cool the cookies completely on the sheet pans before transferring to a plate or to an airtight container for storage. At room temp, the cookies will keep fresh for 5 days; in the freezer, they will keep for 1 month.
Milk Crumbs
4 tsp. milk powder
4 tsp. all-purpose flour
1 tsp. cornstarch
2 ½ tsp. sugar
A pinch of kosher salt
2 tbsp. (1/4 stick) butter, melted
2 tsp. milk powder
3 tbsp. white chocolate, melted

Directions
1. Heat the oven to 250°F.
2. Combine the 4 tsp. milk powder, the flour, cornstarch, sugar and salt in a medium bowl. Toss with your hands to mix. Add the melted butter and toss, using a spatula, until the mixture starts to come together and form small clusters.
3. Spread the clusters on a parchment- or silpat-lined sheet pan and bake for 20 minutes. The crumbs should be sandy at that point, and your kitchen should smell like buttery heaven. Cool the crumbs completely.
4. Crumble any milk crumb clusters that are larger than 1⁄2 inch in diameter, and put the crumbs in a medium bowl. Add the 2 tsp. milk powder and toss together until it is evenly distributed throughout the mixture.
5. Pour the white chocolate over the crumbs and toss until your clusters are covered. Then continue tossing them every 5 minutes until the white chocolate hardens and the clusters are no longer sticky. The crumbs will keep in an airtight container in the fridge or freezer for up to 1 month.