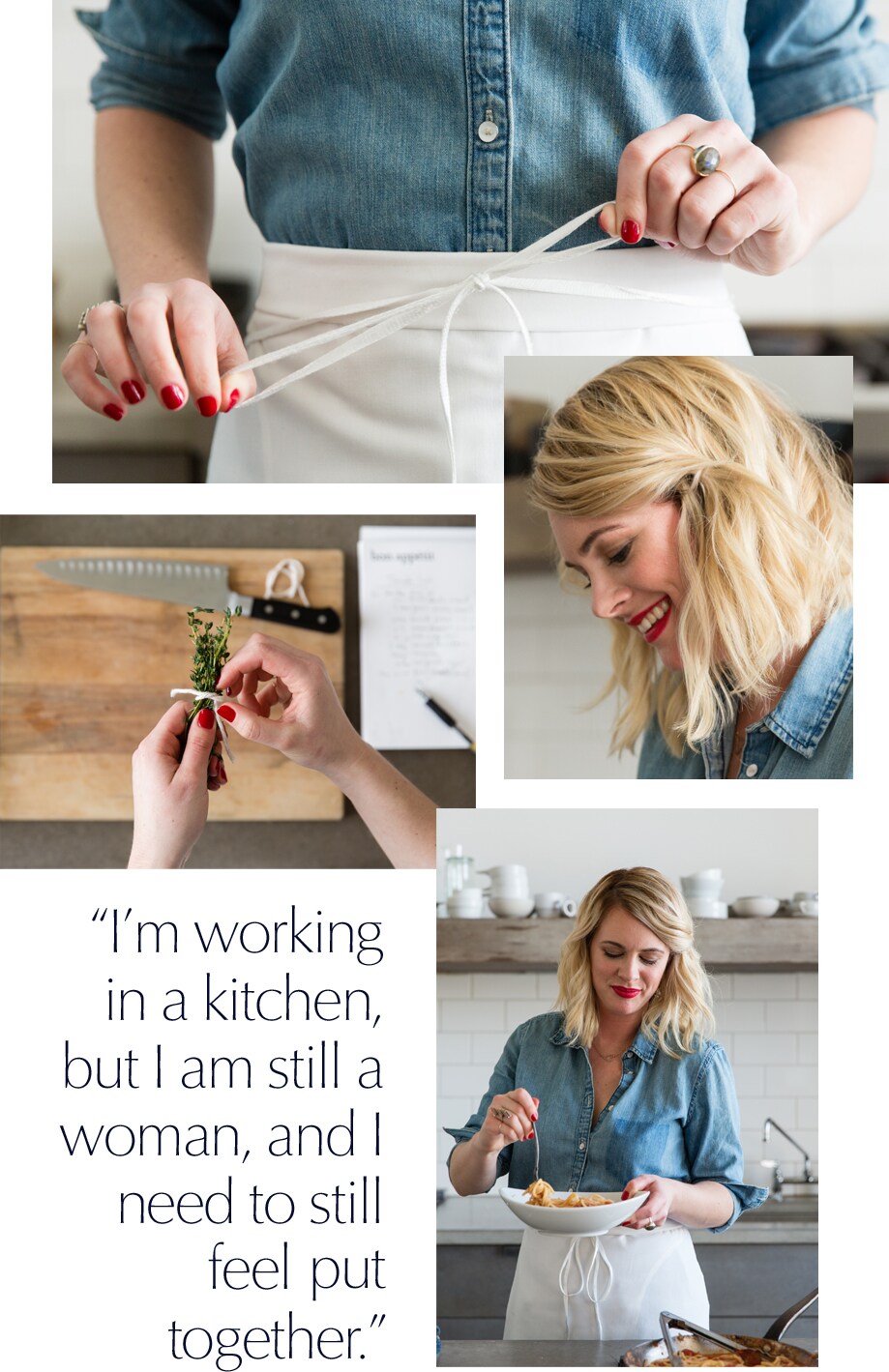 As Bon Appétit magazine's senior food editor, Alison Roman develops recipes, cooks through them, writes about them, and then works with the publication's talented team to figure out which of them makes it into every issue of the popular monthly. But if you had asked her about her job description a few years back, she would have had a hard time describing it. "I didn't know that the job I have now was a job," Roman admits with a laugh.
A political science and creative writing student in college, Roman arrived in the food industry when a budding interest and a few influential jobs turned into a passion. "I wasn't really committed to anything so I started working in restaurants," she explains of her path into a number of noteworthy kitchens—first in L.A., where she grew up, and then in San Francisco where she moved following a culinary tour of Europe in 2006. "It was a really special time there," Roman explains of the Bay Area's then-burgeoning food scene, which has since become world-renowned. After working as a pastry chef at the tender age of 22, Roman made her way to Michael Tusk's well-loved Jackson Square eatery, Quince, where she benefited from an extremely collaborative environment that taught her how to do everything from "make homemade pasta to break down a whole lamb." But when New York beckoned in 2010, Roman answered the call. "I never thought I'd move to New York because I'm such a California person. And then a friend sent me a picture of his trip to Brooklyn and it was literally an overnight decision," she insists.
What started as a three-month trip turned into a permanent cross-country relocation when Roman got a job at Momofuku Milk Bar working with confectionary doyenne, Christina Tosi. "I fell in love with it—and everyone who worked there, and I decided to say." Roman's obsession with red lipstick started around the same time. "I moved to New York and I thought, 'I'm working in a kitchen, but I am still a woman, and I need to still feel put together," she says of the classic crimson color that she's rarely without. It's an occupational hazard that Roman faces with aplomb, as repeatedly tasting sweet and savory concoctions (click here to watch Roman riff on Estée's favorite tomato sauce) never compromises her quest for the perfect pout. "I need to design lipstick for people that eat all day," she jokes. Here, Roman dishes on her reapplication tips, the benefit of the no-polish manicure, and reveals her rather unique signature scent.
On Skincare:
"I have pretty average skin; it's not dry, and it's not oily. But using a nice cleanser is super important to me because my aunt drilled it into my brain that I shouldn't ever fall asleep with makeup on! Then I generally moisturize with the same cream for day and night, although in the winter I tend to use more cream— and drink more water. Water makes a huge difference in how my skin looks."
On Lipstick:
"Sometimes, it's hard to feel pretty when you have flour allover your face, and you're wearing a dirty apron and clogs. So I gravitate towards lip colors that will stay on—that's important to me because being able to live your life normally, even if you're wearing makeup, is nice. I like stains and matte finishes that I can apply without a mirror (I do it all the time so I don't really need one!), and I always keep my lipstick in my pocket in case I need a retouch."
On Eyebrow Pencils:
"Aside from lipstick—and mascara—I'm really a minimal makeup person. But recently, I have gotten into the eyebrow pencil game. I've always had thick brows but now I've realized that I can have thicker brows, which is nice because then you don't have to wear a full face of makeup. Because then what's the difference between working, and going out? I want someone to tell me that I clean up nice!"
On Nails:
"I get manicures pretty regularly because I do a lot of shoots where my hands get photographed. I usually have to wear clear polish for those, so I've become kind of addicted to no-polish manicures. I never thought I'd be this kind of person, but I really can't go a week-and-a-half without one."
On Fragrance:
"I don't like to wear fragrances if I'm working. I've always been against that because cooking is an 'all senses on deck' situation. When I go out, I like to wear concentrated essential oil blends, but I don't really have a signature scent. People always tell me I smell like cookies, though."