When it comes to faddy foods, there is perhaps no trendier dish than the kale salad. Spotted nationwide at hip cafés and purveyors of haute-cuisine alike, the leafy green has become the main attraction in many a well-balanced meal. Equal parts good for you and delicious, the fashionable and flavorful vegetable also happens to be great for your complexion, according to bonberi.com founders, Vanessa Packer and Nicole Berrie. Below, Packer and Berrie provide their own riff on the popular recipe while breaking down the nutritional benefits of each key ingredient so you can beautify with every bite.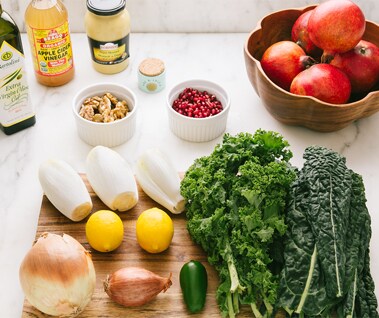 Salad Ingredients
2 cups of chopped Italian kale, stems removed
2 cups of chopped curly kale, stems removed

They don't call it a "glowing green" for nothing: rich in both Vitamin C and copper that act as potent anti-inflammatory agents to keep you feeling strong and healthy, kale is also a great source of Vitamin A, which is a plus for skin. Tip: In order to break down the tough barrier of this fiber-packed cruciferous vegetable and reap all of its benefits, massage the leaves with an acidic dressing, like the one below, before serving.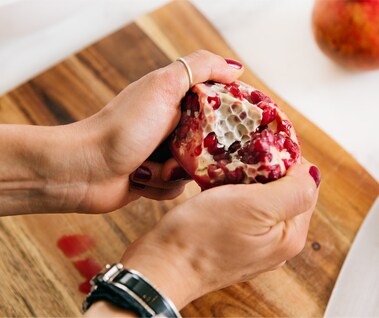 1 cup of chopped endives
A great source of Vitamin E, endive helps promote digestion by detoxifying and cleansing the body. (As and added bonus, its mellow, crisp flavor helps cut the bitterness of the kale.)

3 tablespoons of pomegranate seeds
Packed with antioxidants, pomegranates are the ultimate superfood! Hailed for their anti-aging properties, they promote collagen and elasticity as well as skin regeneration and sun protection against free radicals.

3 tablespoons chopped raw walnuts
The Vitamin B and plant-based omega-3 fats found in these crunchy nuts make them tasty—and brain-friendly.

Touch of minced jalapeño
A powerful chili, jalepeños are a good source of of Vitamin C, which is a powerful antioxidant that promotes healthy looking skin. Tip: Try using fresh jalapeños, which are nutritionally superior to pickled or canned options.

4 tablespoons of chopped sweet onion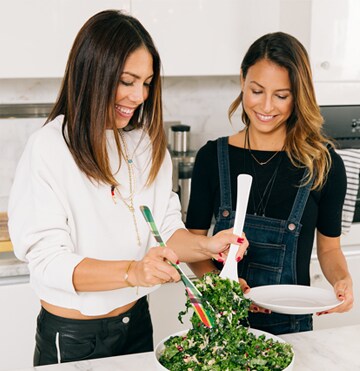 Salad Dressing Ingredients
4 tablespoons of cold pressed organic olive oil
2 tablespoons of fresh juiced organic lemon
2 tablespoons of chopped shallots
2 teaspoons of Dijon mustard
4 tablespoons of apple cider vinegar
Sea salt/pepper to taste
Directions
Combine all salad ingredients in one bowl. Separately mix the salad dressing and then massage the dressing into the kale using your hands. Before serving, top with additional pomegranate seeds and raw walnuts.