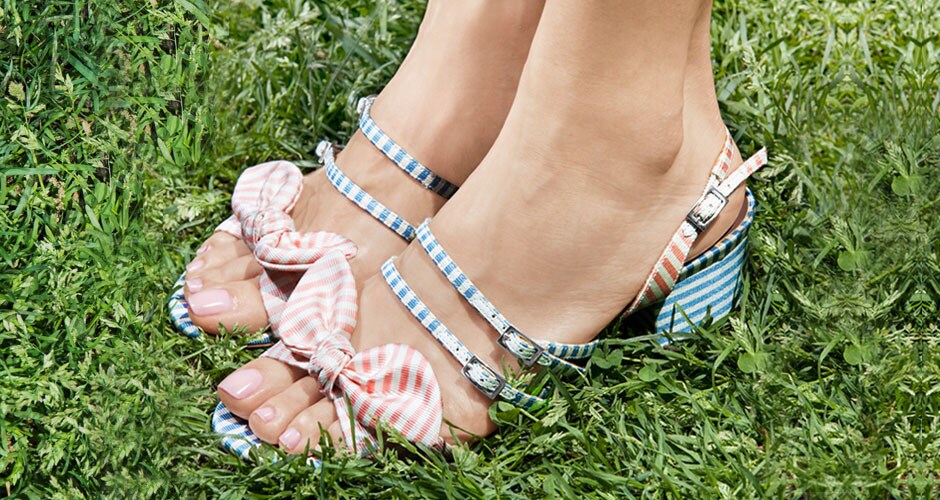 "It  runs into the hundreds," Tabitha Simmons admits with a laugh when her number of shoes comes into question. Consider it just one of the perks of being a Council of Fashion Designers of America (CFDA) award-winning accessories designer.
Simmons, a British-born model-turned-stylist who regularly contributes to magazines like Vogue, Dazed & Confused and Another, made her footwear obsession official when she debuted her own collection of pretty pumps, flats, wedges and boots in 2009. Her highly covetable, flirty yet functional designs have been mainstays with shoe enthusiasts ever since. Now based in New York's Chelsea neighborhood, where she lives with her her husband, the photographer Craig McDean, and their two children, Simmons is embracing Summer in Manhattan by sporting in her new collection of Spring/Summer sandals — and regular pedicures. Here, the beautiful, often barefaced, brunette pairs four of her favorite styles with an edited selection of Estée Lauder Pure Color Nail Lacquers, and shares her tips for sandal-wearing success.
I'm a lot more daring on my toes than my nails.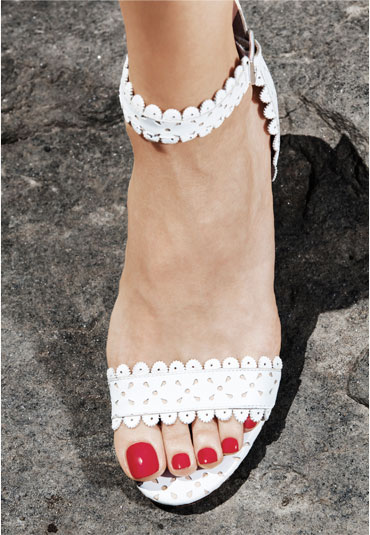 The Regular Routine
"I go to Diva Nails every three weeks on average — in the summertime much more regularly than in the winter. It's a local mani/pedi place on the corner near my house. It's pink and white and quite fun."
The Color Palette:
"I tend to keep to the pinks and reds and slightly brown shades. I'm a lot more daring on my toes than my nails, but I always end up with a bright red or a dark burgundy."
The Multi-Tasking Method:
"I am very into French toe manicures and a round nail shape. Your feet just look really clean and nice, and it goes with everything."
The Word on Nail Art:
"I love that people are experimenting much more with nail colors, and I know a lot of people who do nail art, but I never got into it. I prefer toes, especially, to be more classic."
The After Hours Tip:
"I love the way a dark color — like black or navy — looks with an evening sandal. It's very classy."