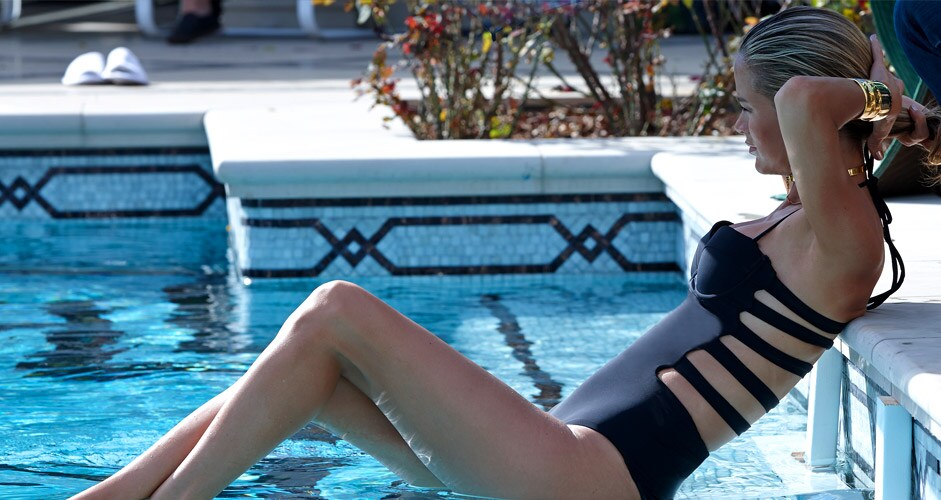 As summer rages on, the season's beauty forecast calls for easy eye looks that complement skin's natural glow. We asked the experts to weigh in on the right tools to keep lids safe — and sultry — in the sun.
Step 1: Prep
While summer sun can bring on a warm, tawny complexion, it can also zap skin of moisture, causing dryness and posing a problem for makeup application —particularly when building a base. "If you just apply concealer under the eye on its own, its going to look chalky," says Estée Lauder director of global makeup artistry Blair Patterson. To help keep the entire area hydrated, smooth and bright, Patterson recommends the new Advanced Night Repair Eye Synchronized Recovery Complex II, both as a long-term solution and as a quick fix. "If you're tired, you've been traveling a lot or you're really dehydrated, take one-quarter of the serum to three-quarters of concealer and mix them together to hide dark circles and pigmentation, while feeding the skin at the same time."
Step 2: Play
"When you have a tan, you feel like you have the sun's makeup," admits Patterson. "But you can mix that with bronzed pigments and earth tones to bring out the contours and shape of the eye, which is pretty much what the sun does for you anyway," he explains, adding that our new Pure Color Envy Sculpting Eyeshadow 5-Color Palettes offer an easy, one-stop way to amp up lids. "A lot of people think all of the eyeshadows in these compacts need to be blended onto the eye lid at once. But you can use eyeshadows as liners, as highlighters, as contouring products or to bring out your eye color," insists Patterson. The best way to approach a palette, he advises, is to slip into it slowly. "Start with the color you respond to most, and apply it in the way you know how. Then, every week, challenge yourself to add another color — as a liner underneath the lower lash line, or as an accent color on the outer-corner. If by the end of the summer everyone of those shadows isn't disrupted you're not getting the most of the palette!"
Patterson recommends using a handheld mirror to try out different application techniques at night "when you have more time and patience," using our Doublewear Stay-In-Place Eye Pencil all over the lids to keep shadows in place. He also urges women to appreciate the importance of a well-groomed brow. "Brows are an amazing feature that is incredibly underutilized. If you start there with an eyeshadow that is one shade lighter to clean up and fill in the shape, your brows will be beautifully defined."
Step 3: Protect
Once lids are primed and primped, it's important to keep them shielded from harmful UV exposure, which can be a safety, and a style measure when paired with the right sunglasses. Here, Anna Laub — master lens-crafter and founder of Prism London — shares her guide to the right pair of shades for every face shape: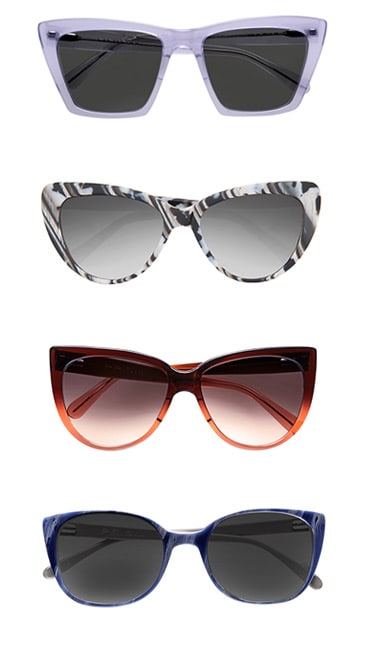 Heart Shaped: "I always find that it makes sense to do more graphic, geometric glasses shapes, like our Sydney style, with a rounder face. A larger pair of frames makes the face look more in proportion. It just balances it out."
Oval: "With an oval silhouette, cat-eye, winged-tipped glasses, like our Capri style, lift the shape of the face and set off the cheekbones."
Square: "In order to soften the angles of a square face, round glasses, like our Moscow style, will just proportionalize things with a bit of coverage and soft curved edges, which makes the face look more delicate."
Narrow: "A smaller glasses shape, like our Tokyo style, works well on a narrow face as it doesn't stick out too far on either side, which stops the face from looking too long."
For more, visit Prism London.