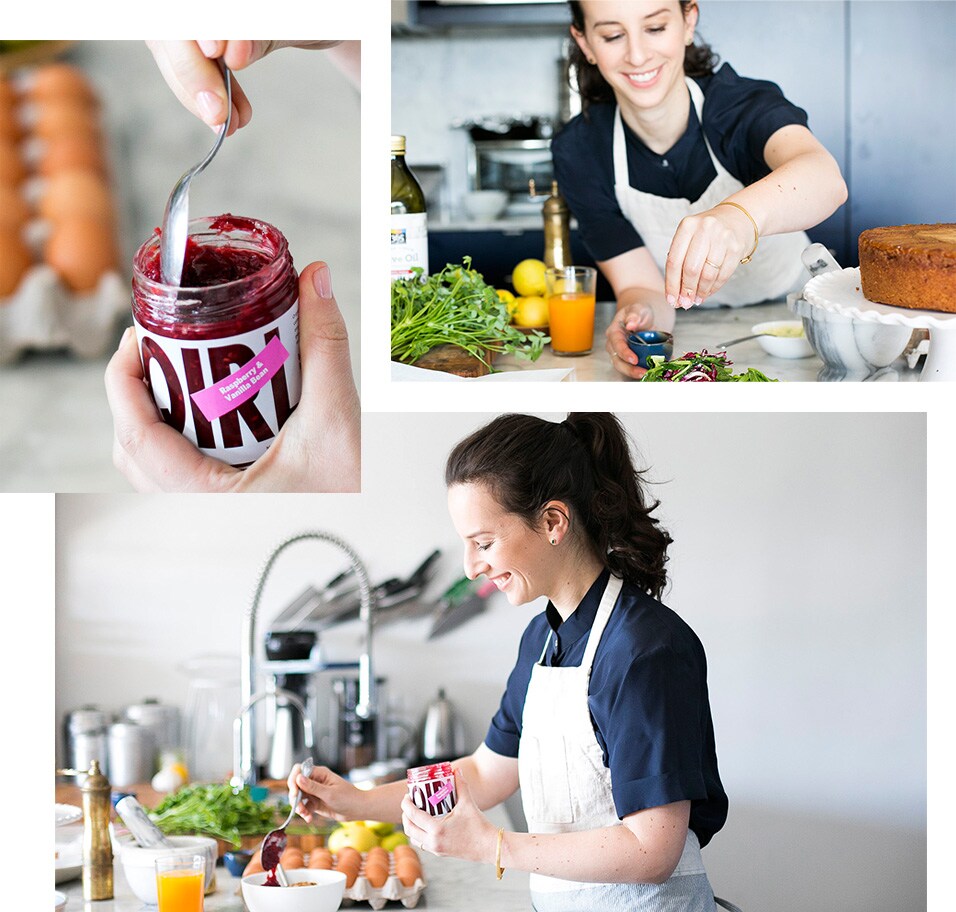 After six years of higher education, first as an economics and film studies student at Brandeis University and then in a communications masters program at Georgetown, Jessica Koslow had a burning desire for something slightly different than the accelerated media career she was on track for. "I finished all this school, but all I really wanted to do is cook," the Long Beach, CA-native recalls of the moment of culinary clarity she experienced in 2005. Living in Atlanta at the time, Koslow had recently eaten at the James Beard Award-winning restaurant Bacchanalia and was hooked. "I felt compelled to write an email," she recalls of the digital cold call she made to chef/owner Anne Quatrano that landed her a job in the pastry kitchen. "It was a lucky moment," Koslow says of what she attributes to good timing and the same committed work ethic that ultimately earned her a coveted job at the FOX Network when she relocated to New York two years later.
But even as a successful television producer on American Idol, Koslow couldn't silence the internal voice that kept calling her back to the kitchen. So she moved again, this time back to Southern California to wean herself off corporate culture with a part-time job at L.A.'s Village Bakery. "I was baking bread from 12 AM - 8 AM and then going home, sleeping for two hours, and going to my producer job," she reveals of the crazy hours she was keeping just to have a foot in the food industry. When FOX dissolved her position in the Spring of 2010, it finally gave Koslow the impetus to fully commit to cooking and, following a brief spell baking in Australia, she started Sqirl, a line of traditionally-made artisanal jams, jellies and marmalades. "Southern food is really based around preservation - pickling, charcuterie, etc.," the 34-year-old explains of the time she spent in Georgia, which sparked her interest in spreadable preserves. "I saw that this was something no one was doing in California where the produce is so good its almost taken advantage of, and it was something I knew how to do," she continues.
What began as a small bespoke collection of handmade fruit spreads in innovative flavors, like wild blueberry with tarragon and blood orange with vanilla bean, has evolved into a full-fledge business that inspired Silver Lake's popular Sqirl cafe, which Koslow opened in 2012 with just 22 seats and a focus on brunch (click here to see the her riff on Estée's Vitality Breakfast). To keep up with the demand for her meticulously designed dishes, Koslow admits that she has little time for a beauty regimen. But as the daughter of a dermatologist who only let her wear Estée Lauder makeup, 2014's Eater L.A. Chef of the Year has a special stash of favorites on hand. Here, the jam-maker and fruit-focused foodie reveals her "integral" product picks, and one of L.A.'s best spa secrets.
I want my makeup to look as natural as possible.
On Skincare
"I grew up figure skating. My mother essentially put me inside a rink instead of on the beach to protect me from the sun! I was always wearing sunscreen, which was as important as cleansing. Now, my regimen is similar—very clean and simple. I wash my face in the morning and night with a foaming cleanser, then I put on a serum followed by an tinted moisturizer with SPF. At night, I apply my Advanced Night Repair Eye Serum."
On Beauty
"When you work in a kitchen, it's not natural to wear makeup. But Sqirl gets photographed all the time—and it's important to get yourself together in the morning, which I'm learning more and more. People definitely respond to that. So when I do wear makeup during the day, I want it to look as natural as possible because I'm working, first and foremost."
On Makeup
"My eyelashes stick straight out and are not that thick so I wear mascara day and night. Recently, I've also been using Double Wear Stay-in-Place Gel Eyeliner and drawing a thin line above and below my lash lines using a small brush. Then I apply Pure Color Envy Lipstick in Impulsive, a great pink-y nude, that I top off with Pure Color Gloss in Nude Rose. My nighttime look is pretty much the same, although I might wear a darker shade of lipstick, like a hot pink or a bright red, that I matte down so it looks like it's a bit worn in."
On Nails
"In restaurants in L.A., you're not really allowed to wear nail polish. So if I am wearing polish it needs to look like I'm not, sort of like the same way I approach my makeup—and my food, to some degree; It needs to feel integral, not heavy or manipulated. Typically I either buff my nails, or I'll just wear a very nude polish."
On Bodycare
"One of the things I love most about living in L.A. is going to Wi Spa on Wilshire Boulevard and getting a total scrub down. It's a Korean Spa and you sit in these hot pools and then have a woman scrub your body like crazy. I go once a month—and I highly suggest it if you've never been!"