With designers from New York to Paris requesting no-fuss, low-maintenance
beauty looks, the Fall runways relied heavily on barely there embellishments
and the occasional artful detail — which usually included a focus on lids, rather than
lips. From minimal makeup and tributes to '60s starlets made modern to
high-shine metallic accents, do try these looks at home.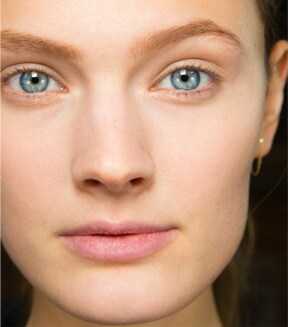 Better Off Bare
The Look:
Minimal makeup, maximum impact
How to Get It:
A good base is key to embracing a
light-handed, natural beauty approach, so
make sure to nourish your skin with
hydrating toner, and an emollient moisturizer
before doing anything else. Steer clear of
heavy pigments, choose a sheer foundation,
like Double Wear BB Cream and use a good concealer to touch up any spots or discoloration. Then, after swiping a multi-tasking, taupe-brown eyeshadow across lids and along the hollows of cheeks, fill in brows and brush them up using a pencil. A clear lip balm — and no mascara — keeps this look easy, but considered.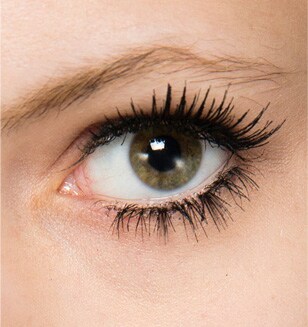 Lash Out
The Look:
It's a Mod World
How to Get It:
Blame it on the '60s. The decade's It Girls
inspired an all out lash attack on the
catwalks, with makeup artists creatively
cutting up strip lashes, layering them on
top of one another, and embellishing them
with individual lashes to achieve dramatic
length and impressive thickness. Even ultra-dark and glossy mascara wands
worked overtime, providing multiple coats of rich black pigment to create deliberately clumpy, spidery spikes. To keep these lashes on the right side of retro, leave skin muted with subtle eyeshadow contours, nude lips — and very little else.
Embellish clear skin by dipping into something shimmery.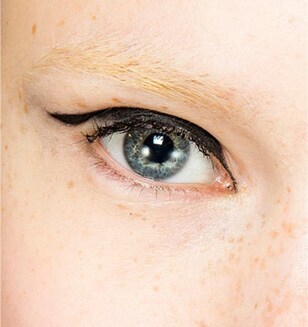 Liner Notes
The Look:
Innovative, bold pencil strokes
How to Get It:
Another '60s spinoff came via expertly
rimmed lids with upturned swipes of eyeliner
dragged out toward the temple. Classic
black cat-eyes got a contemporary twist with double, parallel strokes on the upper and lower lash line; Floating liner applications, drawn just above the lash line with a liquid liner; Water lines fully traced with black eye kohl liner; and even unexpected pops of color, like electric blue, which came to a perfect point just above the outer corner of lashes.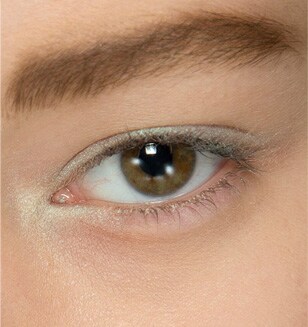 Shine On
The Look:
Grown-up glitter
How to Get It:
Another popular way to embellish
otherwise clean skin is to make like
the pros and dip into something shimmery.
Washes of chrome shadow and
golden-green glitter swept across lids
look fresh, especially sans mascara and
against Fall's neutral complexions. Cleverly placed pastel highlighting
powders concentrated on the inner corners of lids and dotted just above the
center, provide a glimmering dose of light.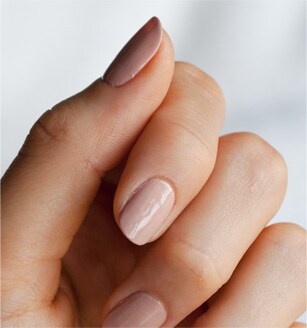 The Nude Review
The Look:
Mannequin Hands
How to Get It:
As nude and pale pink polishes — rather
than more elaborate and outlandish colors
and designs — continue to dominate the
catwalks, figuring out how to select the
right neutral lacquer shade is of the
utmost importance. Luckily, there a few
simple rules for picking the perfect polish: If you have red undertones in
your skin, go with a nude nail varnish that has a pink undertone, like
Ballerina Pink. If you have more olive skin, go with something with a more
yellow base to it, like Nudité. And if you have dark skin, be willing to
experiment as a multitude of nudes will complement your complexion.
Editor's note: a gold, silver or neon tip provides a chic addition to even the
most muted manicure.