The eyes don't lie and they're also the window to the soul, according to popular lore —which is to say, nothing telegraphs a woman's emotions quite like her lids. "The eyes give expression and versatility to the face," says Garance Doré, the popular photographer, illustrator and street-style blogger. Personality and character come through in the way a woman chooses to enhance her eyes, Doré continues. No wonder the feline features make for such an alluring cosmetics canvas.
The eyes give expression and versatility to the face.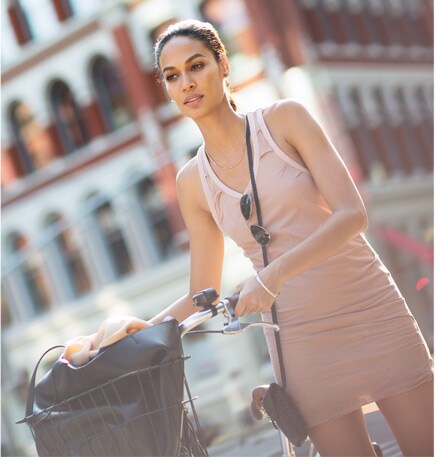 "Eye makeup is my outfit," confirms Estée Lauder spokesmodel Joan Smalls, on whose impossibly beautiful gaze Doré has trained her lens for her latest collaboration with The Estée Edit. "I love having the freedom to play around with colors and tones," Smalls says of her preferred color palette, which tends to veer from shimmery bronze colors during the day to more emerald, smoky shades at night. Her color leanings proved inspirational on set, as Doré, Smalls and makeup artist Sir John used the velvety soft pigments in our new Pure Color Envy Sculpting Eyeshadow Palettes to illustrate three looks that can easily carry the supermodel – and any woman [looks are not only for supermodels, right?] – through a typical, super busy 24 hours.
"This look is daytime dramatic," Sir John explains as he works the taupe-y brown color from the Fiery Saffron palette through the crease of Smalls' lids before tapping the Champagne shimmer from the same compact onto the center for a "sporty-downtown" effect capable of catching the light as Smalls bounces around to morning castings. One coat of mascara — on top lashes only — adds definition, without being too glam.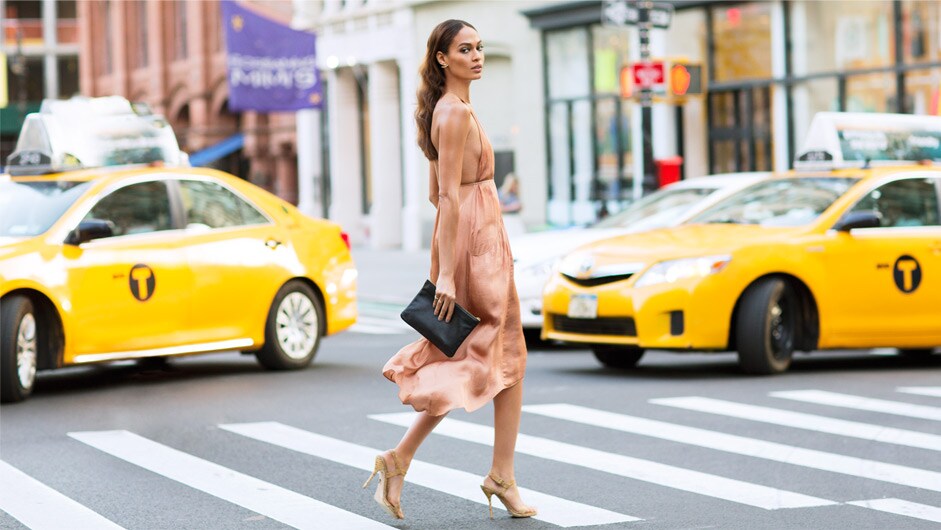 I love how you can be daring and yet beautiful at the same time with different palettes.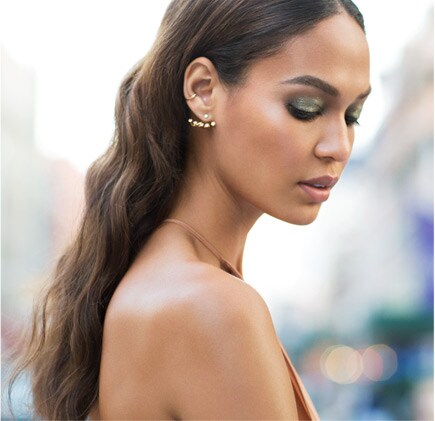 Then Sir John got to building. To add "depth, illumination and a touch of disco" to Smalls' late-afternoon look, the makeup artist rimmed her upper and lower lids with deep green eyeliner, sweeping a similar color from the Fierce Safari palette through the crease with a damp brush for a super-saturated effect. To create fluidity, Sir John dipped a dry brush into the same shadow to lightly dust beneath the lower lid.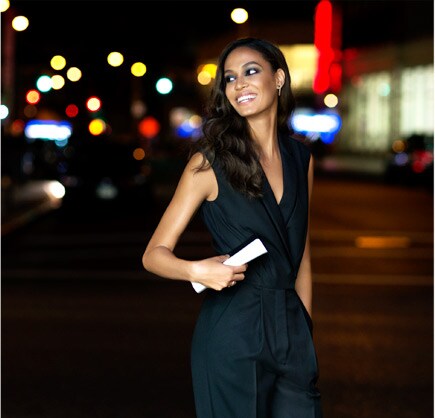 For Smalls' after-hours look, Sir John smudged Kajal Eyeliner all around her eyes that he topped with the gunmetal gray shadow from the Envious Orchid compact, again wetting the brush to amp up the intensity. To brighten things up a bit, he defined the inner and outer corners with a matte taupe shadow before implementing a pro tip he casually refers to as "cleaning up the edges" — to prevent smears as the night wears on, coat a clean brush with a bit of pressed powder to diffuse the shadow and set it in place.
For a final, full-on effect as Doré snapped her last shots, Sir John applied layers upon layers of rich, jet-black mascara to Smalls' upper and lower lash lines for an unapologetically sexy stare. "I love how you can be daring and yet beautiful at the same time with different palettes," Smalls reflected as she dashed off into the New York night.