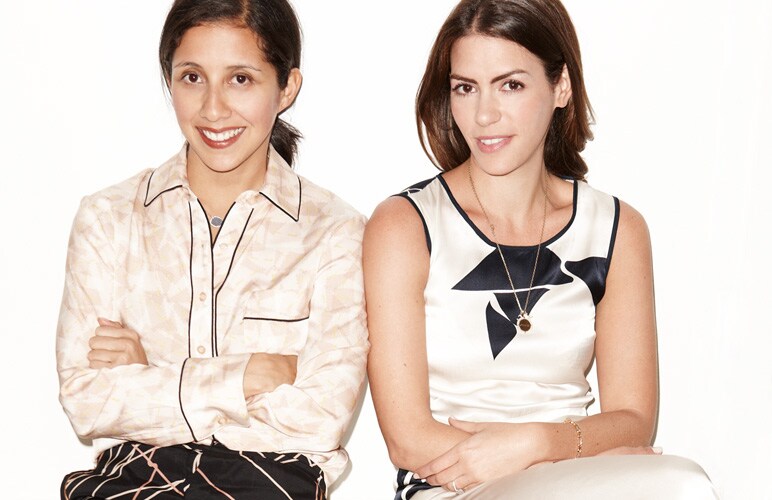 Since its launch in 1982, Estée Lauder's cult-favorite Advanced Night Repair serum has been optimizing beauty sleep by working in sync with skin's own overnight renewal process to help repair the visible signs of aging. The iconic little brown bottle is the secret to a smooth, radiant wakeup — although indulging in a few other evening creature comforts, like an expertly tailored wardrobe of loungewear, certainly doesn't hurt.
I get the best sleep after I exercise.
"People want to look great while still being comfortable and feeling good in pieces that are chic and effortless," explains Karla Martinez, who, along with her partner, Cecilia de Sola, came up with the concept behind Piamita, the clothing line that has helped make the classic pajama blouse a wardrobe staple. "It's a silk uniform," de Sola explains of their edited collection of PJ-inspired items that are sophisticated, luxe and highly wearable — on holiday, at the office or at home. The concept has revolutionized the institution of dressing for comfort, and it's not the only good idea Martinez and de Sola have when it comes to curating the best beauty sleep possible. Here, the two women give The Estée Edit their eight-step guide for ultimate, after-hours tranquility.
Sleep Aids. Clockwise from top left: The XX, self-titled debut album; Piamita Helena star-print jumpsuit;
Amangiri Grand Canyon luxury resort; The Lover by Marguerite Duras; Leontine Linens sheet set.
1. Take Off Your Makeup
"I always take my make up off before going to sleep, and at night I try to wash my face with a skin-cleansing brush to remove dead skin. As for products, I typically use a cleanser, serum and a skin-perfecting lotion. I also try to have a facial every 4 to 6 weeks, which I find is key to keeping your skin looking good." — CDS
2. Slip Into Something More Comfortable
"I am in Piamita a lot during the day, but when I'm not, the first thing I do when I come home is throw on my Piamita Nan pants with a cozy Piamita T-shirt in cotton and run to dinner with my husband." — KM
3. Inhale and Exhale
"Anything neroli-scented relaxes me. It reminds me of my father." — KM
4. Make Your Bed
"Sheets are essential to a good night's sleep. My favorite are bespoke, from the bedding company Leontine Linens. They are so luxurious. I'm obsessed!" — CDS
I always take my make up off before going to sleep."
5. Have Some "Me" Time
"Nothing relaxes me more than quiet time to myself, curled up with a good book (I just finished The Lover , by Marguerite Duras) and a glass of wine. I live most of the year in Chile, where they produce excellent varieties of wine and my favorite is Payen, a Syrah from the vineyard Tabali."—CDS
6. Schedule a Destination Doze
"My most favorite hotel and scenery is the Amangiri in Utah. I love the desert and the hotel just blends right in. The sunlight in the morning is magical, and it's so quiet you get the ultimate night's rest." — KM
7. Get Your Body Moving
"I get the best sleep after I exercise. My favorite workout in NYC is at my boxing class at Punch Fitness at 6:30am on Tuesday and Thursday. It gives me energy for the day and by 9:30pm I am ready to hit my pillow." –KM
8. Press Play
"When it comes to sleep-inducing music, I like the band The XX. Both of their albums are loaded with great chill-out tunes." — CDS