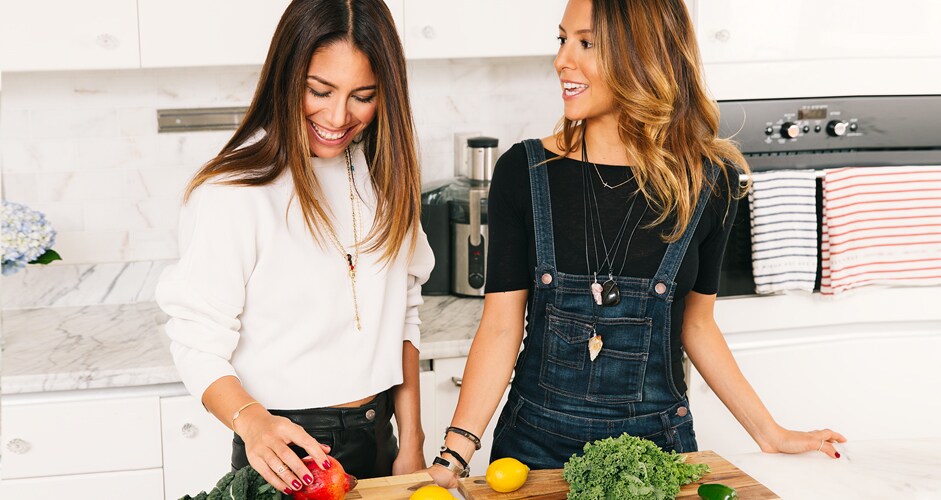 Vanessa Packer and Nicole Berrie have a summer traffic jam on the Long Island Expressway to thank for their chance encounter. "It was sort of a When Harry Met Sally moment," Packer jokes of the lengthy car ride the two women shared en route to the Hamptons three summers ago. A trip to Ibiza a year later solidified their friendship — and confirmed that they shared more than a love of traveling to beach destinations.
Everything is made from whole food.
"We realized that we both really like working out and eating well, but also enjoying life," Packer explains of the impetus behind Bonberi, the popular health and wellness website the two founded last year. Packer, a holistic nutritionist and the co-founder of ModelFIT — a boutique fitness studio in Downtown Manhattan — and Berrie, a freelance writer and Vanity Fair and ELLE magazine alum, shared a vision for a meticulously art-directed, online guide to living well.
"We feature people and places that we're inspired by, and spotlight how they bring wellness into their day-to-day life," says Berrie. "We really invite people to dip a toe, or jump head first, into living a healthier, balanced life."
Updated every two weeks with original photography and an eclectic mix of stories, Bonberi touches on fashion, travel, music and curation. But it's Packer and Berrie's recipes that are winning them a steady stream of new readers. "We don't use processed or refined sugars; everything is made from whole food, quality ingredients — and we're really big on proper food combinations and bringing in seasonal stuff whenever possible," says Packer.
Click here for Bonberi's pomegranate and kale salad exclusively for The Estée Edit.