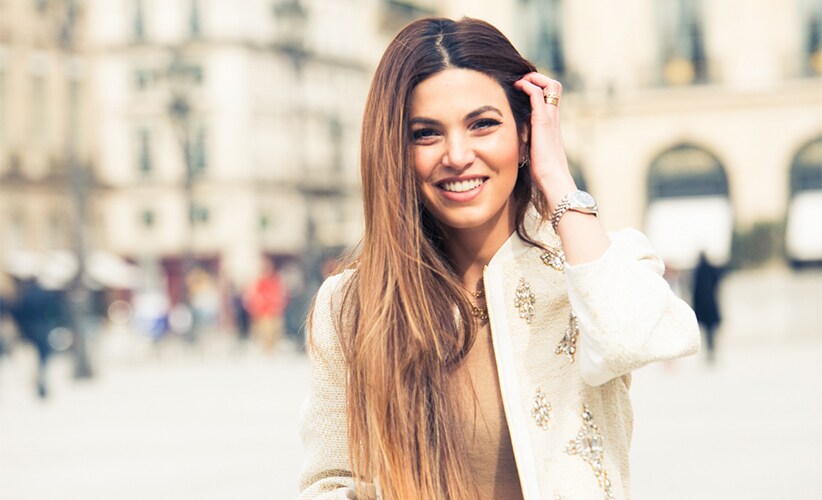 Despite the countless number of fashion enthusiasts across the globe that are posting self-styled sartorial inspiration to the Internet as you're reading this, achieving fashion blogger super stardom eludes even the most dedicated among them. But Negin Mirsalehi beat the odds. The Amsterdam-based Persian beauty, whose waist-length ombré locks could have their own Instagram account, got her Masters Degree in marketing before she realized that fashion blogging was where her heart was. So, in 2012, she launched her eponymous fashion, beauty and lifestyle platform that chronicles her world travels, her beauty tips, and of course her outfit inspiration. Three years, multiple high-end brand partnerships, and 2 million social media followers later, it would seem as though the 26-year-old made the right choice.
In addition to her regularly coiffed mane of honey-gold hair and her expertly applied makeup, which is typically blended on top of a base of Double Wear Foundation ("It's such a reliable product!") Mirsalehi has also mastered the selfie, lending a certain aspirational quality to all of her posts. "You have to have great lighting," she insists of staging her photos by a big window, or outside during certain times of day. Here, the award-winning media upstart sits down with The Estée Edit to answer the hard questions.
EL: What was your first-ever fashion splurge?
NM: A classic Speedy 30 Louis Vuitton bag I saved for when I was 17. I still have it, so I have no regrets!
EL: Who are your dream dinner party guests, dead or alive?
NM: John Lennon.
EL: What's your one desert island beauty product?
NM: Just one? Probably sunscreen.
EL: If we looked inside your bag, what would we find?
NM: Too much! But always a bottle of water, makeup for daily touchups, and lip balm—chapped lips are such a pet peeve.
EL: What's your first beauty memory?
NM: The first time I ever used a lash curler half of my lashes fell off! It's funny now when I think about it, but at the time I was horrified.
EL: What is your favorite app?
NM: Snapchat! I'm kind of addicted.
EL: If you could only wear one shade of lipstick forever, what would it be?
NM: Mauve Pink
EL: Who is your favorite designer?
NM: Maison Valentino for dresses. They are so delicate and feminine. They make you feel like a real life princess!
EL: Who are your beauty icons?
NM: Jacqueline Kennedy Onassis. She is the epitome of grace, style and intellect, and of course my mom who is just as beautiful on the inside as she is on the outside.
EL: What are your favorite Instagram filters?
NM: I try not to use too many filters, but when I do I like Valencia and Hudson.
EL: Who do you love to follow on Instagram?
NM: @Stonefoxmag, @Habitualfeels, and @Purienne_ for inspiration, and @Frenchwords because I love the language and I'm trying to learn it myself!
EL: Heels or flats?
NM: Heels are fun, but I definitely prefer flats.
EL: What are your five wardrobe essentials?
NM: A leather jacket, flared jeans, nude heels, a crisp white t-shirt, and a good floor length coat.
Photo by The Coveteur.