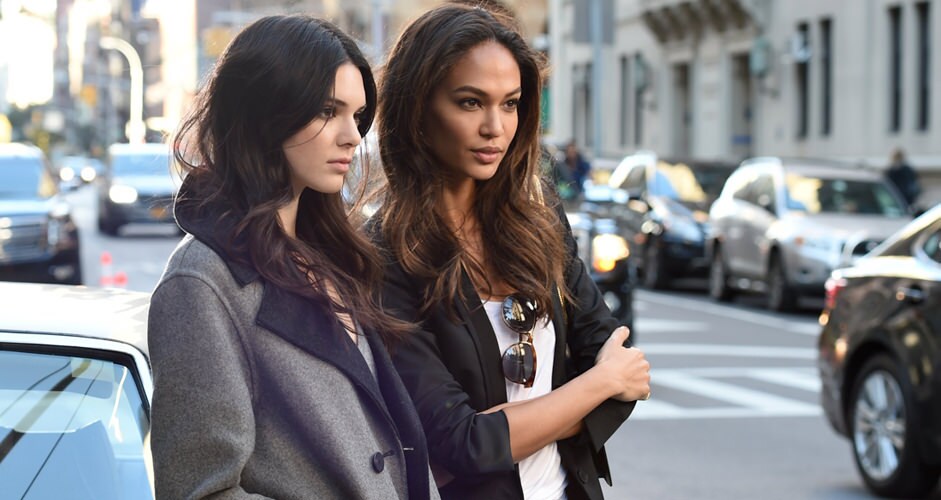 It's not an overstatement to say that Kendall Jenner's name precedes her: at just 19-years-old, fashion's latest It Girl has practically grown up in the spotlight. But the past year has seen the tall, lithe brunette carve out her own path as one of the most in-demand models of the moment. From her runway debut on Marc Jacobs' Fall 2014 runway, to walking the Chanel couture show this summer at the special request of designer Karl Lagerfeld, Jenner's casting in a dozen key fashion shows, multiple magazine covers and editorials, and one very coveted Givenchy ad campaign are proof positive that her star is rising. Her 15 million-and-counting Instagram followers only serve to hammer that point home.
Jenner's recent string of successes combine to make the next chapter in her life as a member of the Estée Lauder family that much more exciting—and who better to quiz the L.A.-born stunner on her whirlwind journey to beauty ambassadorship than backstage regular and fellow Estée Lauder spokesmodel, Joan Smalls. Here, The Estée Edit sat in on the set of their forthcoming campaigns as Smalls and Jenner shared advice on walking the runway, the merits of a "good eye," and tips on how to take the perfect selfie.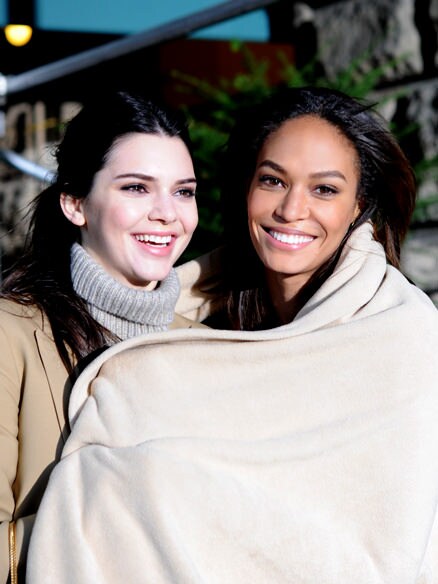 JS: Do you remember the first time we met?
KJ: Honestly, I can't remember, but I know it was backstage at a show.
JS: And we were wearing the same dress.
KJ: And you were in front of me!
JS: Were you nervous?
KJ: I had done Marc Jacobs before and I wasn't really nervous for that; I was more excited. But I was nervous when I got to Paris because I did my first show in heels, and I had a long dress on that I was afraid I would trip over.
JS: Did you trip?
KJ: No, and it was a long runway too! You gave me some good advice.
JS: I was telling you to be more boyish and manly, and you did a good job! So, how does it feel to be a part of the Estée Lauder family?
KJ: It's amazing—it's such an honor to be part of one of the most prestigious cosmetic brands and to be involved with amazing girls, like you!
I like a good eye...
I love mascara.
JS: How did you feel when you found out about it?
KJ: I was so excited. I found out backstage in Paris and they told me I couldn't say anything. So I saw the text and I was like, "Oh my God! I have to keep this to myself." When I got to my room I started freaking out.
JS: Did you tell your mom?
KJ: Yeah, my mom was the only person I told. She was crying, but then she cries at everything.
JS: Do you have any Estée Lauder products that you like?
KJ: I've always been a huge fan of their concealer. I've grown up with Estée, that was all my mom would use. I remember the old lipstick cases that were gold and mirrored. It's such a family brand for me because it's been there my whole life so it is crazy to actually be doing this today.
JS: Have you always been big on beauty?
KJ: I think so. I have videos of myself from when I was really little, maybe three or four, and my mom is filming me as I walk out with a little bag and say, "I just did my makeup!" Then I walk away and put some more on.
JS: You have four sisters. Have they given you any makeup tips over the years?
KJ: Randomly enough, my older sisters went to a makeup school when they were younger, so they're all really good at it. They've always told me that "natural is better."
JS: Would you say you're more into eyes or lips?
KJ: Eyes. I like a good eye. Sometimes I like a little bit of a cat-eye, or a wing is nice. And lots of mascara. I love mascara.
JS: Are you good at doing your own eye makeup?
KJ: I'm getting there. I'm a visual learner, so I watch people doing my makeup and I get better.
JS: Who is your beauty icon?
KJ: Angelina Jolie. She's just ridiculously beautiful. And then I really love Rosie Huntington-Whiteley's style, and I love Rihanna. I feel like she kills it all the time.
I like to keep my nails
really neutral with
nudes and grays.
JS: Now that you're constantly traveling for shoots and shows, do you have any good on-the-go beauty tips?
KJ: For sure I need to have lip balm with me always, and if I'm on a plane I like to have my moisturizer with me because you get really dry on planes so it's important to keep your skin hydrated. Otherwise, I just need to feel refreshed and clean so I try to wash my face before I go to bed, and I use an eye cream.
JS: What about nails—what's your go-to shade?
KJ: I like to keep it really neutral with nudes and grays. But if I'm going on vacation, I like color. My favorite polishes are royal blue or red.
JS: What are you listening to right now?
KJ: I know every single Sam Smith song, I'm obsessed with him!
JS: Flats or heels?
KJ: It depends on the occasion, but mostly flats.
JS: New York or L.A.?
KJ: L.A. (I still love you, New York!)
JS: Skinny jeans or boyfriend jeans?
KJ: Skinny jeans.
JS: Where is your happy place?
KJ: Being surrounded by my family. It sounds simple, but that is where I am at my absolute happiest. And on the Greek island of Santorini!
JS: What's your greatest fear?
KJ: Being crushed by a big rock. Don't ask!
JS: If you could change one thing about yourself, what would it be?
KJ: I wish I was better at letting go and giving up control whenever I know it's better to do so.
JS: What talent would you most like to have?
KJ: I wish I could sing like Beyoncé.
JS: What's your favorite movie of all time?
KJ: Moulin Rouge. I've watched it so many times.
JS: Last one: With so many Instagram followers, do you have any advice for perfecting the selfie?
KJ: Lighting is a big thing. If you're not in the right light it just won't work. I'm not into using too many filters, either. I like to keep it pretty natural—or black and white is always cool. But above all, you have to know your face: everybody has their good side. And practice! Practice makes perfect.
For more, see Kendall's Faves.