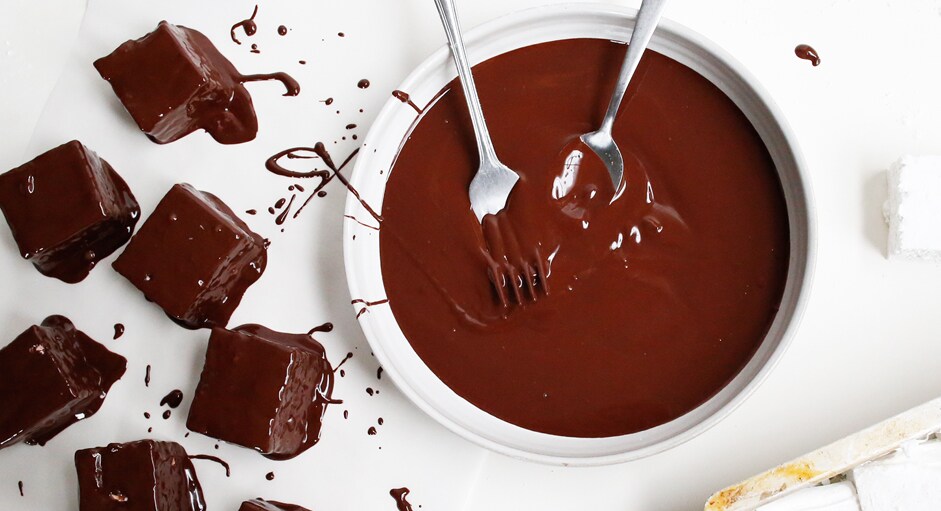 "Estée loved jewelry, caviar, spaghetti and meatballs—and spoiling her grandchildren with treats," Aerin Lauder says, listing a few of her grandmother's favorite things. While Estée was always good for an impromptu trip to the ice cream parlor, her favorite dessert was chocolate-covered marshmallows. Here, New York-based executive chef of the popular Soho eatery Navy Camille Becerra riffs on the light and fluffy yet utterly decadent confection while modeling a few fun Summery makeup looks.
Recipe
Chocolate-Covered Marshmallows
1 cup water
3 envelopes gelatin
1 1/2 cup sugar
1 cup corn syrup
1/4 tsp salt
1 vanilla bean, split lengthwise and seeds removed
1/4 cup confectioners sugar
1/4 cup corn starch
Non-stick cooking spray
2 cups dark chocolate, cut into small pieces
Pour 1/2 cup of water in the bowl of a stand mixer, sprinkle gelatin into water, leave to bloom.
In a saucepan, combine remaining 1/2 cup of water, sugar, corn syrup and salt. Simmer for 5 minutes, then cover and boil for approximately 10 minutes. Using a candy thermometer, check that the mixture reaches 240 degrees, then remove from heat.
Quickly and carefully start your mixer on the lowest setting and add the hot sugar mixture to gelatin in a slow and steady pace.
Once the sugar mixture is added completely to the gelatin, turn mixer to highest speed and whip till thick, about 15 minutes.
Add vanilla beans and whip until evenly incorporated.
Mix the corn starch and powdered sugar in a small bowl. Spray a 9 x 9-inch pan with non-stick cooking spray. Add the cornstarch-powdered sugar mixture to pan and move pan around to coat evenly. Shake out remaining mixture and pour back into bowl for later use.
Transfer the sugar mixture to the prepared pan and allow to sit uncovered for at least 4 hours or overnight.
Using the reserve cornstarch-powdered sugar mixture, coat a cutting board and knife to prevent sticking. Turn out the pan of marshmallow to the cutting board and cut into 1-inch squares.
Melt chocolate over a double boiler. Temper the chocolate to ensure a glossy final product: using a candy thermometer, heat chocolate to 115 degrees. Remove from heat and cool to 80 degrees, then warm back up to 90 degrees. This will give your chocolate a really nice glossy finish.
Dip marshmallows into chocolate and allow to set for 20 minutes.
Serve and enjoy.